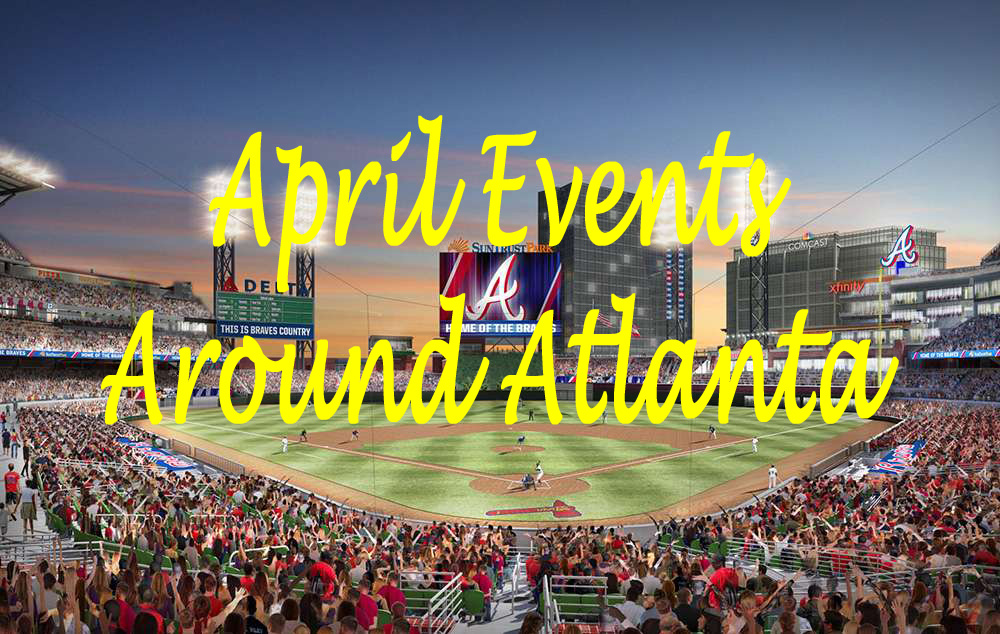 Single Day Events
April 1 April Fool's Comedy Night
April 3 Georgia Grown
April 5 Ultimate Steak Night at Vino Venue in Dunwoody
April 6 Food-o-Rama
April 6 Brookhaven Beer Fest
April 6 A Change 'Gon Come
April 6 Slingin' Wings Festival
April 6 International Street Festival
April 7 Atlanta Streets Alive
April 7 5K Color Run at Six Flags Over Georgia
April 7 Atlanta Gladiators
April 8 Magic Monday: Egg Hunt at the Atlanta History Center.
April 13 Dancers Unite Against Cancer
April 13 Heartbeat Festival
April 13 Atlanta Spring Wine Festival
April 13 Run Before You Crawl
April 13 Atlanta Grilled Cheese Festival
April 13 Atlanta Magic Night at Red Light Cafe
April 13 Little Critters Day at the Fernbank Museum of Natural History
April 18 Atlanta's Taste of the Nation
April 18 Alive in Roswell
April 19 $5 Easter Egg Hunt at Archibald Smith Plantation in Roswell
April 20 Eggstravaganza
April 20 Northeast Cobb Community Egg Drop
April 20 Free Entrance Days in the National Parks
April 20 Art on the Chattahoochee
April 20 Taste of Forsyth
April 21 Easter Sunrise Service
April 25 You're A Good Man Charlie Browns
April 27 Great Southern Beer Fest
April 27 Clarkston Culture Fest
April 27 The Garden Faire
April 27 Kennesaw Beer & Wine Fest
April 27 All About Kids Expo
April 27 Spring Chicken Festival
April 27 Symphony on the Sand
April 28 Cheers for Change at Sweetwater Brewing Company
April 28 Taste of Marietta

Multiple Day Events
April 4-5 Writers' Festival at Agnes Scott College
April 4-14 The Atlanta Film Festival
April 5-6 Rodgers & Hammerstein's Cinderella
April 5-7 221B Con
April 5-7 MotoAmerica Championship at Road Atlanta
April 6-7 Spring Festival on Ponce
April 6-7 Acworth Art Fest
April 6-21 Egg Paperweight Class
April 11-May 5 The Hero's Wife at Synchronicity Theatre.
April 12-14 Atlanta Dogwood Festival
April 12-14 Druid Hills Tour of Homes & Gardens
April 12-20 Easter egg hunts in Georgia's state parks
April 13-14 Big Shanty Festival
April 13-14 Perry Dogwood Festival
April 13-June 1 Georgia Renaissance Festival
April 18-28 Big Fish Musical
April 18-28 Singin' in the Rain
April 19-21 SweetWater 420 Fest and 5K at Centennial Olympic Park
April 20-21 Sandy Springs Artsapalooza
April 23-25 Design ADAC at Atlanta Decorative Arts Center
April 24-28 Lemonade Days
April 25-27 Atlanta Improv Festival.
April 25-27 Wesleyan Artist Market
April 25-28 Cinema Italy Atlanta
April 26-27 Athens Twilight Criterium
April 26-28 Inman Park Spring Festival
April 26-28 JordanCon
April 27-28 Crawfish Boil
April 27-28 Spring Jonquil Festival
April 27-28 Duluth Spring Arts Festival
April 27-28 Atlanta Motorama
April 27-May 26 Flower Class at Decatur Glassblowing for age 10+.