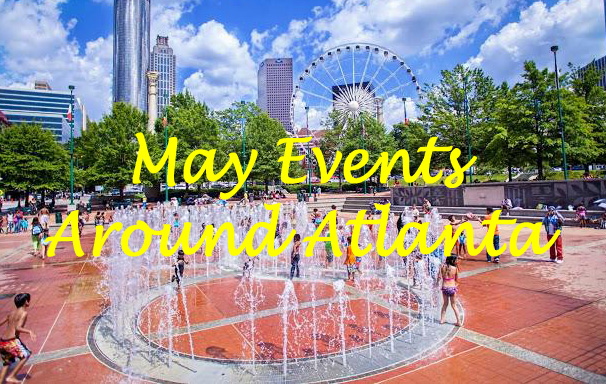 Single Day Events
May 2 Taste of Alpharetta
May 4 Tacos & Tequila Midtown
May 4 Cinco de Mayo Pub Crawl on the BeltLine
May 4 Taste of East Point and the South Metro Area
May 4 Derby Day
May 4 Party for the Paws
May 5 KidFitStrong Fitness Challenge
May 5 Picnic in the Park
May 8 Tower Lights Wine & Whiskey Auction
May 10 Decatur Lantern Parade
May 11 The Sweet Spot
May 11 La Fête du Rosé
May 11 The Seasons of Marvin Gaye
May 11 Hattitude Mother's Day Brunch
May 11 An Evening Under The Stars
May 11 M2R Trailfest
May 11 Garden Tour
May 11 Pawfest
May 11 Mother's Day Brunch
May 12
Mother's Day at the Zoo
May 14 Science on Tap
May 15 Cruel Intentions: The '90s Musical
May 16 Alive in Roswell
May 17 Global Cooking & Wine Pairing Series: Under the Tuscan Sun at Vino Venue in Dunwoody.
May 18 Uncorked Atlanta Wine Festival
May 18 Atlanta Magic Night at Red Light Cafe.
May 18 East Atlanta Craft Beer Festival
May 18 Touch-A-Truck & Meet-A-Princess
May 18 Generations Expo
May 19 Midtown Garden Stroll
May 19 Cork & Pork
May 25

Multiple Day Events
May 1-5 The Hero's Wife at Synchronicity Theatre.
May 2-26 Flower Class at Decatur Glassblowing
May 2-June 2 Native Gardens
May 2- Oct. 24 Cocktails in the Garden
May 3-5 Shaky Knees Music Festival
May 3-5 Wholanta at Hilton Atlanta Airport
May 3-5 Movie Palace Radio Hour: The Adventures of the Lone Ranger and the Shadow
May 3-12 The Big Meal at OnStage Atlanta
May 3-19 The Bridges of Madison County
May 4-5 Snellville Days
May 4-5 Woofstock
May 4-5 Canton Festival of the Arts
May 4-June 2 Georgia Renaissance Festival
May 8-June 1 Tower Lights Wine & Whiskey Auction
May 9-12 Laughing Skull Comedy Festival
May 9-June 2 Southeastern Designer Showhouse & Gardens
May 10-11 Smoke on the Lake BBQ Festival
May 10-11 Shaky Beats Music Festival
May 10-26 A View From The Bridge
May 11-12 Gardens for Connoisseurs Tour
May 11-12 Sweet Auburn Springfest
May 11-12 Atlanta Rose Show
May 11-12 Chastain Park Arts Festival
May 11-12 Dunwoody Art Festival
May 11-12 Cherokee County Indian Festival and Pow Wow
May 11-17 Atlanta Cycling Festival
May 17-19 Marietta Greek Festival
May 18-19 Grant Park Spring Tour of Homes
May 18-19 Malcolm X Festival
May 18-19 Kirkwood Spring Fling & Tour of Homes
May 18-27 Yaarab Shrine Circus in Jim R. Miller Park
May 23-26 MomoCon is an animation, anime, comic, and gaming convention at Georgia World Congress Center
May 24-26 Memorial Day Weekend Festival at Callaway Gardens
May 24-25 Concerts in the Garden
May 25-26 Atlanta Caribbean Carnival
May 25-26 Atlanta Jazz Festival
May 25-26 Decatur Arts Festival
May 25-26 Decatur Arts Festival
May 25-27 Alpharetta Arts Streetfest
May 30-June 2 Atlanta Food & Wine Festival
May 30-June 2 Atlanta Game Fest
May 31-June 1 Candler Park Music & Food Festival