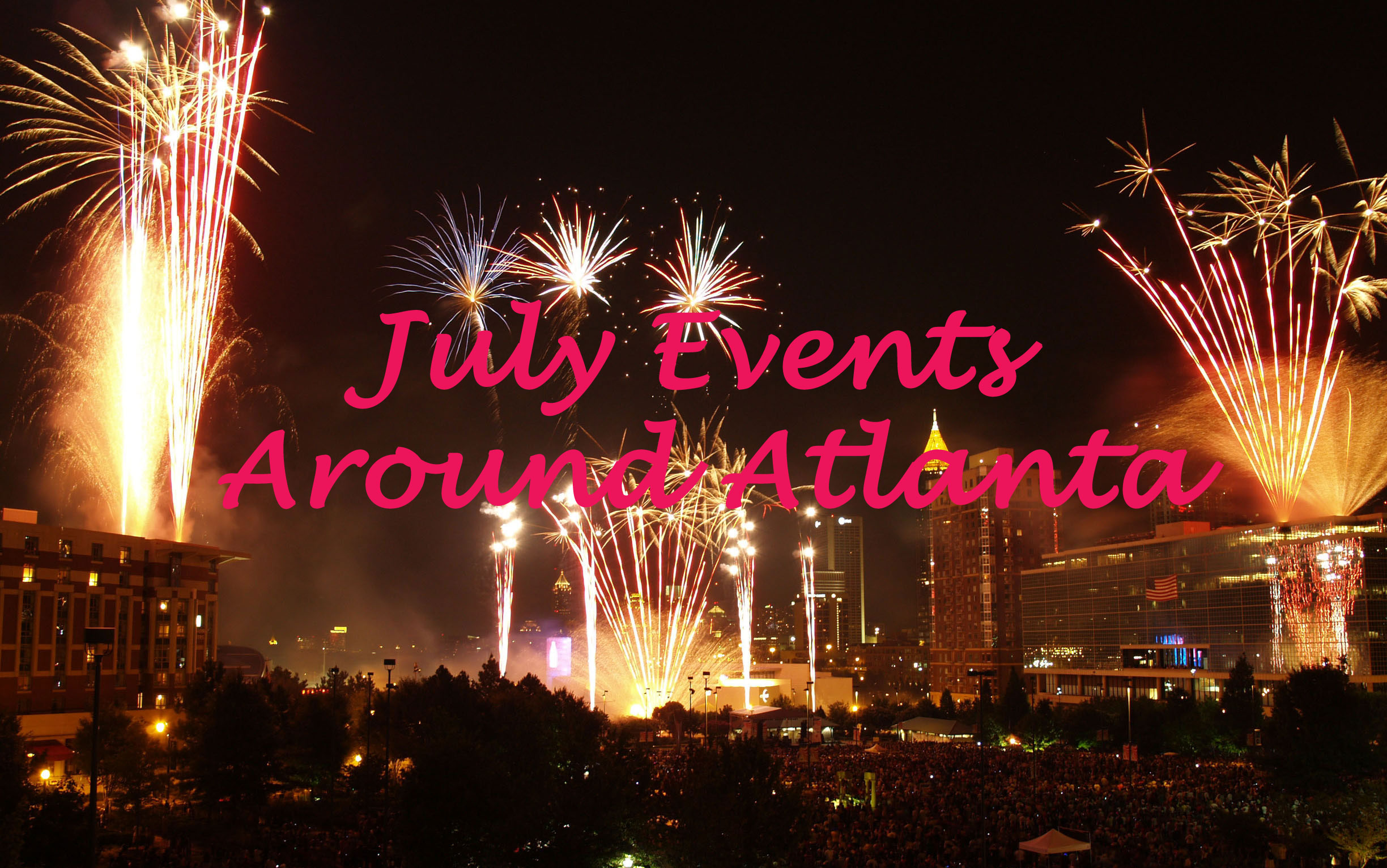 Single Day Events
July 3 Red White & BOOM!
July 3 Duluth Celebrates America
July 4 Fourth of July Celebration
July 4 Red White & Brew
July 4 Salute to the Red, White and Blue
July 4 AJC Peachtree Road Race
July 4 Sandy Springs Stars and Stripes Celebration
July 4 Fourth in the Park
July 4 4th of July Celebration at Wills Park
July 4 Star Spangled Fourth at Mall of Georgia
July 6 Classic Cut Series: American Steak Nightat Vino Venue in Dunwoody
July 12 The Atlanta Pancakes & Booze Art Show
July 13 Atlanta Field Day
July 13 Soirée Blanche Bastille Day
July 13 Atlanta Magic Night
July 13 Reptile Day
July 14 Attack of the Killer Tomato Festival
July 14 Concerts by the Springs
July 15 AgLanta Eats at Atlanta Botanical Garden
July 18 Alive in Roswell
July 19 Jazz Matters
July 20 Champions of Magic
July 20 Whatever Floats Your Boat
July 20 Small Boutique Fashion Week
July 24 Summer in the City
July 24 Back to School Bubblepalooza
July 26 City Green Live
July 27 Old 320 Beer Fest
July 27 Atlanta Ice Cream Festival
July 27 Atlanta Zombie Pub Crawl
July 27 Bring It!

Multiple Day Events
July 1-7 Fantastic Fourth Celebration at Stone Mountain Park
July 2-28 Beauty and the Beast
July 3-6 July 4th Fest
July 4-Sept.26 Cocktails in the Garden
July 5-7 Clybourne Park
July 5-14 As You Like It
July 5-28 Ghost Tours
July 6-Sept.1 Pocahontas
July 6-Sept.6 Georgia Movies in the Park
July 6-Sept. 14 Brooke Street Park Summer Concert Series
July 10-Aug. Concerts in the Garden
July 12-14 Southern-Fried Gaming Expo
July 12-28 Tenderly: The Rosemary Clooney Musical
July 12-Aug.4 Circo Hermanos Vazquez
July 15-19 Head Over Heels
July 18-Aug. 11 A Midsummer Night's Dream
July 19-20 Stamp & Scrapbook Expo
July 20-28 Atlanta Open annual men's tennis tournament held at Atlantic Station.
July 23-25 Tournament of Champions at Georgia World Congress Center
July 26-28 Atlanta African Dance and Drum Festival