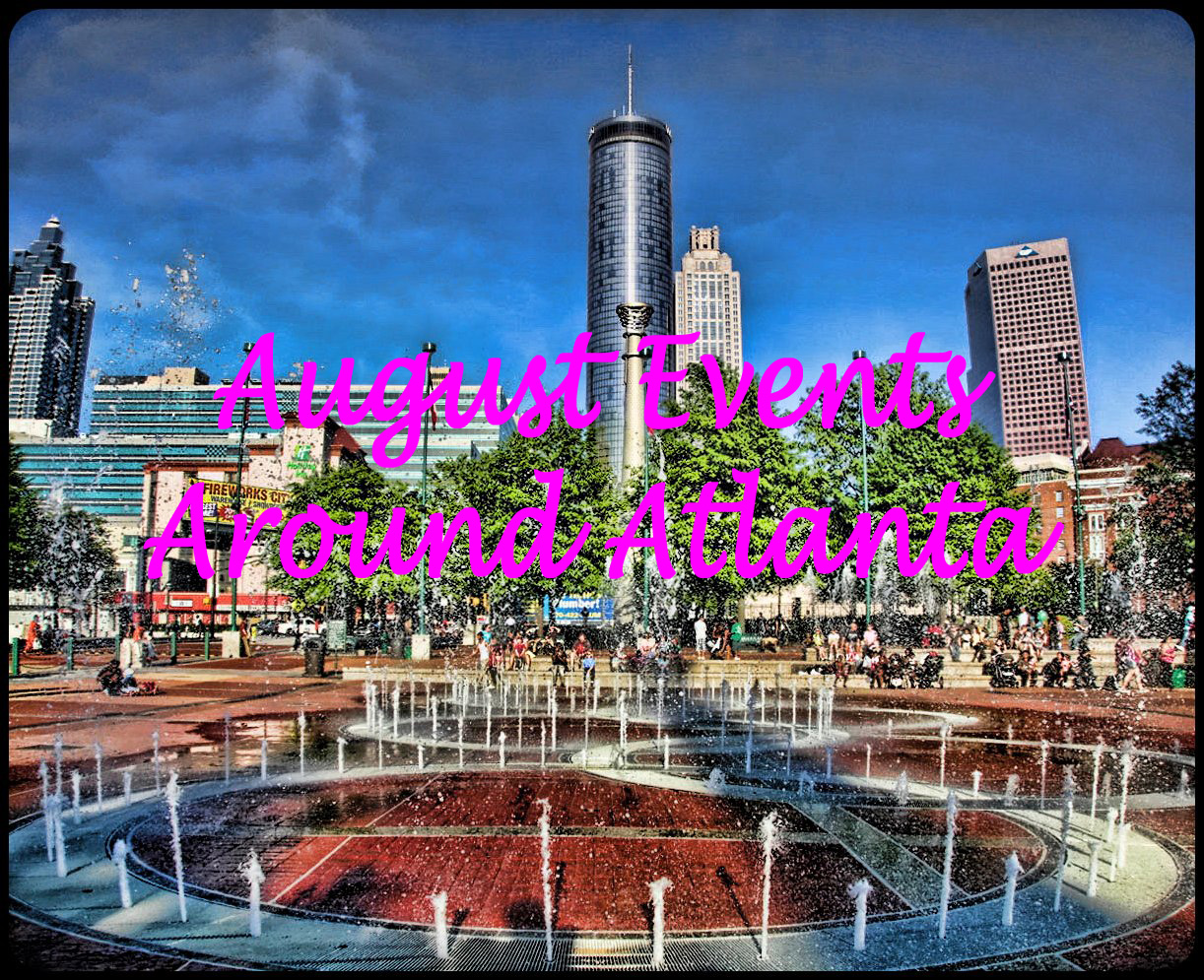 Single Day Events
Aug.2 Sips Under the Sea
Aug.3 Cool Dads Rock Soap Box Derby
Aug.3 Global Cooking & Wine Pairing Series: Summer in Santorini at Vino Venue in Dunwoody.
Aug.3 Old Soldiers Day Parade
Aug.4 Summer Adventures Day
Aug.10 Atlanta Summer Wine Festival
Aug.10 Pub Crawl on the BeltLine
Aug.10 Atlanta Magic Night at Red Light Cafe
Aug.10 Decatur BBQ, Blues & Bluegrass Festival
Aug.10 Ignite Atlanta
Aug.15 Sweet Water Taste
Aug.15 Eats & Beats
Aug.15 Alive in Roswell
Aug.16 Jazz Matters at The Wren's Nest
Aug.17 Doggy Con
Aug.17 Dinosaur Birthday Bash
Aug.17 Area 13.1 Half Marathon & 5K
Aug.17 Taste of Johns Creek
Aug.17 Rugged Maniac 5K Obstacle Race
Aug.19 Aqua Vino in the ballroom and galleries of the Georgia Aquarium
Aug.20 The Big Fake Wedding Atlanta at Pontoon Brewing
Aug.23 Can Can Ball at The Fairmont for charity
Aug.23 Jazz on the Lawn at Callanwolde
Aug.24 German Bierfest at Woodruff Park
Aug.24 Football Fest
Aug.24 ATL Wine + Spirits Fest
Aug.24 Walk, Wag, N' Run
Aug.24 Harley-Davidson of Atlanta Anniversary Party
Aug.24 Atlanta Model Train & Railroadiana Show
Aug.24 Grant Park Summer Shade Festival
Aug.25 Festival Peachtree Latino
Aug.25 Southern Wing Showdown
Aug.25 Discover France Wine & Food Festival
Aug.25 Free Entrance Days in the National Parks
Aug.25 Miss Mary's Ice Cream Crankin'
Aug.31 Plays in a Day Festival
Aug.31 Veggie Connection Event
Multiple Day Events
Aug.1-3 Matilda the Musical
Aug.1-4 Circo Hermanos Vazquez
Aug.1-4 Cobb International Film Festival
Aug. 1-11 A Midsummer Night's Dream
Aug. 2-17 Martin Luther King Jr. History Walking Tour
Aug. 1-Sept.26 Cocktails in the Garden
Aug.2-4 Something Wicked
Aug.2-11 The Cotton Club Revue
Aug. 2-24 Spring Awakening
Aug. 2-Sept.1 Othello
Aug. 2-Sept. 1 Pocahontas
Aug.2-Sept. 27 City Green Live
Aug.2-Sept. 28 Ghost Tours
Aug.2-Nov.21 City Winery
Aug.4-11 Old MacDonald's Farm
Aug.6-11 Cats
Aug.9-11 Dirty South Yoga Fest
Aug. 9-17 Sylvia
Aug.9-24 Disaster! at ACT3 Productions in Sandy Springs.
Aug.9-Sept.26 Georgia Movies in the Park
Aug.10-11 Atlanta Reggae in the Park
Aug.10-Sept.1 Children of Eden
Aug.10-Sept.13 Brooke Street Park Summer Concert Series
Aug.11-Sept.8 Concerts by the Springs
Aug.15-18 Atlanta Underground Film Festival (AUFF)
Aug.15-18 Macon Film Festival
Aug.16-18 Atlanta Tattoo Expo
Aug.16-25 Concerts in the Garden
Aug.16-31 Disenchanted
Aug.16-Sept.1 War Paint at Cobb Civic Center in Marietta
Aug.17-18 Piedmont Park Arts Festival
Aug.17-Sept.1 The Complete Works of William Shakespeare (Abridged) at Shakespeare Tavern Playhouse
Aug.21-25 BronzeLens Film Festival
Aug.29-Sept.2 Dragon Con
Aug.30-Sept.1 Decatur Book Festival
Aug.30-Sept.1Hot Air Balloon Festival
Aug.31-Sept.1 Flashback Festival
Aug.31-Sept.1 Wings Over North Georgia
Aug.31-Sept.2 Marietta Art in the Park
Aug.31-Sept.2 Labor Day Weekend